Spark Indonesia
Side Project | Digital Design & Brand Experience
— is a community of young, passionate and purpose-driven aspiring leaders dedicated to create positive social impact.

Role
---
Digital Designer
Animator
Illustrator
AR Experience Designer
Team
---
Valerie E. Lianggara (myself)

Skills
---
Illustration
Visual Design
Motion Graphics
Augmented Reality
Packaging & Merchandise
Digital Design
Email Marketing Design
Tools
---
Adobe Illustrator
Adobe Photoshop
Adobe AfterEffects
Spark AR
Procreate on iPad
Timeline
---
Winter 2020
The Challenge
One

Spark Impact is a community of young, passionate, & purpose-driven individuals dedicated to create positive social impact. In November 2020, it had plans on relaunching its operations and brand. As their Senior Graphic Designer, the challenge was to create a brand identity and establish a design system that embodies their vision and mission and is appropriate for users.
---
Two

In February 2021, Spark launched Spark Academy, a flagship program that aims to empower young people to lead differently and with purpose through a series of classes on building the know-how leadership in the impact landscape in Indonesia. To represent this, the challenge was to create new graphic elements to stand for the educational aspect of Spark Academy, while still maintaining Spark's original identity.




---


Three

In April 2021, Spark launched our own podcast: SparkPods: The Big Flop. The Big Flop is about the tenacity and drive of young leaders in facing the challenges and hurdles ("flop experiences") they have had to overcome or failed to overcome in their journey, specifically how those experiences allow them to become better leaders and bring bigger impact in what they do in their respective fields. The challenge was to create an identity to rightfully represent the effort to provide content and perspective in hopes of shifting the idea of what success really means and the value of "flops", and strategise to create a brand identity that embodied the idea of failures and turnarounds.




The Solution
One

I was inspired by the idea of the north star, as it symbolizes direction as it glows brightly to guide and lead our audience toward a purposeful destination. Through this, I started out by designing a logo that embodies that vision, and proceeded to design brand collaterals and establish a design system for Spark to increase design workflow for other designers.

---
Two

For Spark Academy, I wanted to communicate the leadership spirit of learners, which was done primarily by designing characters as supportive 'mascots' for the program.

GO TO SPARK'S INSTAGRAM
(Spark's main media outlet)
---
Three
For SparkPods: The Big Flop, I wanted to utilise the imagery of failure. The initial options were either a splash, a banana peel or an upside down arrow. After going through multiple iterations, the team and I decided on the splash and having an arrow on the letter G in The Bi(G) Flop.
LISTEN TO PODCAST ON SPOTIFY
CONTEXTUAL INQUIRY
Main Goal
Spark's key activities inspire, empower & equip young individuals with the knowledge, role models, & social capital needed to make a positive difference in society. With the relaunch of Spark, we want to be "top of mind" when people think of a community of young, passionate, and ambitious leaders wanting to create positive social change in Indonesia.
USER RESEARCH
Psychographics & Target Audience
Describing our ideal user/customer, these are the data analytics on our target market:
Target Age: 15-29
Customer 1: high school student in national+ and international school

Customer 2: university student abroad

Customer 3: higher tiered local university student
Customer 4: young professional any industry 1-5yrs work experience

Personality: open-minded, curious, life-long learners
Attitude: hustles, ambitious
Interests: volunteering, avid social media user, stays up to date with news, involved in organizations
Lifestyles: hangs out with friends, watches documentaries, book readers
Values: community, social change
Languages spoken: English & Bahasa Indonesia
The message we want to come across as an organization is that we want to be "top of mind" when people think of a community of young, passionate, and ambitious leaders wanting to create positive social change in Indonesia.
That we are a community of socially driven individuals and that we're an organization for youth by youth. And lastly, we want the messages to be INVITING to others who aren't in our community already!
Understanding the vision, mission and target audience of Spark, I played around with different icons that encapsulated their brand and what message they wanted to communicate. Such icons included a lightbulb, fire, speech bubbles, stars, lightning bolts, and much more. I visualized these elements through rough sketches, as seen below.
click to zoom!
From hand-drawn sketches, I proceeded to digitize them on Illustrator. I created several options and explored colour options to present to the team.
click to zoom!
Post presentation pitch, I acted on the feedback to solidify the logo concept and narrowed it down to three options.
click to zoom!
Here is the final logo and icon:

click to zoom!
DESIGN SYSTEM
Visual Identity
MOTION GRAPHICS
Animations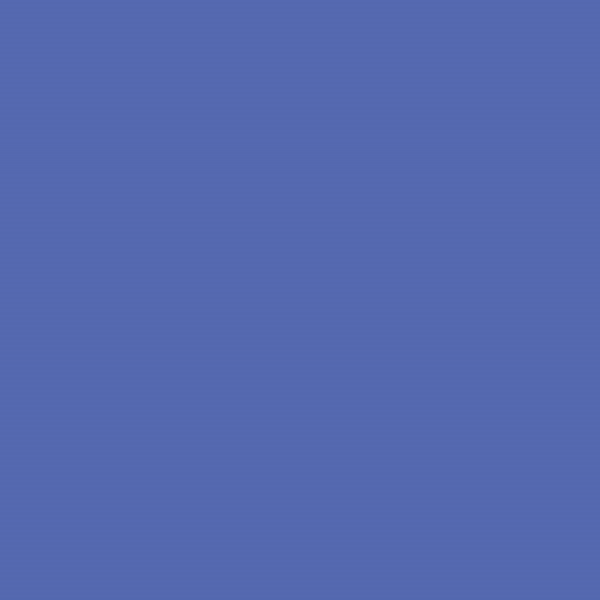 AR EXPERIENCE
Augmented
Reality Filter
For the relaunch event of Spark, I wanted to include an interactive element for users. As we plan on sending out PR packages filled with merchandise and a postcard as a message from the team, I thought of taking advantage of the postcard by creating a design that can be scanned as an Instagram filter. I did not limit myself to a two-dimensional realm of design and decided to push myself in creating a 3D augmented reality Instagram filter. This is activated using the filter available on Spark's Instagram page, where users can scan the design on the postcard to activate.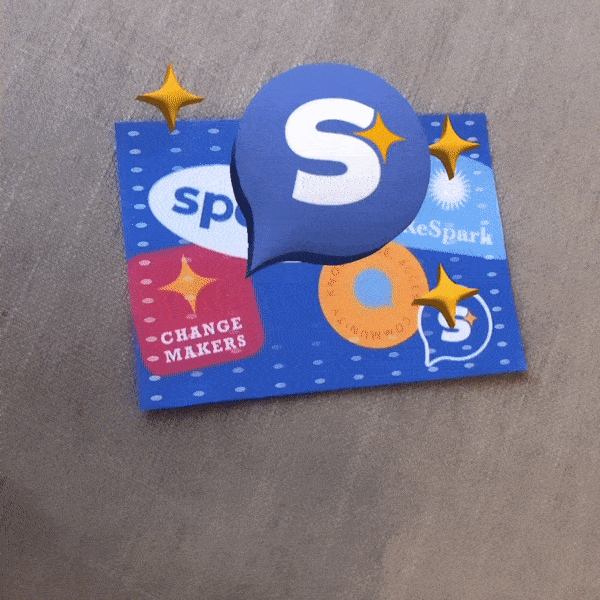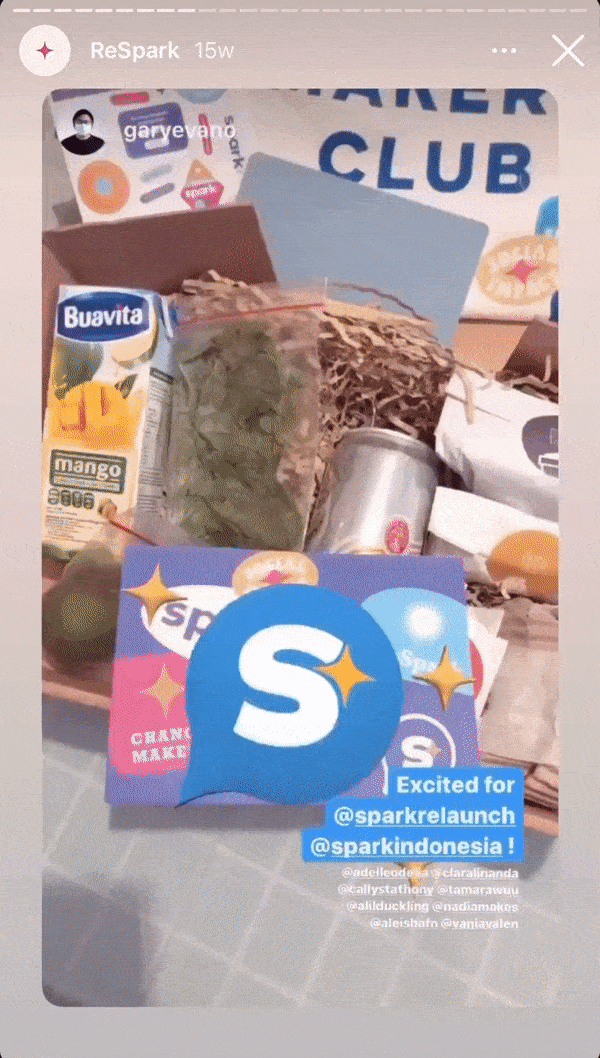 Users using the filter during the relaunch
PUBLIC RELATIONS
Merchandise
click to zoom!
Taken from Spark's existing logo, I created a subsidiary logo for Spark Academy:
DESIGN SYSTEM
Visual Identity
DESIGN SYSTEM
Character Design
Part of my thought process was to always think of a way to increase the quality of user engagement by designing characters to act as a mascot. By introducing an element that has humanistic traits, it automatically creates a recognizable personality. From this, I started out by sketching and visualizing some character ideas, using the speech bubble in Spark's logo as the body.
Initial Sketches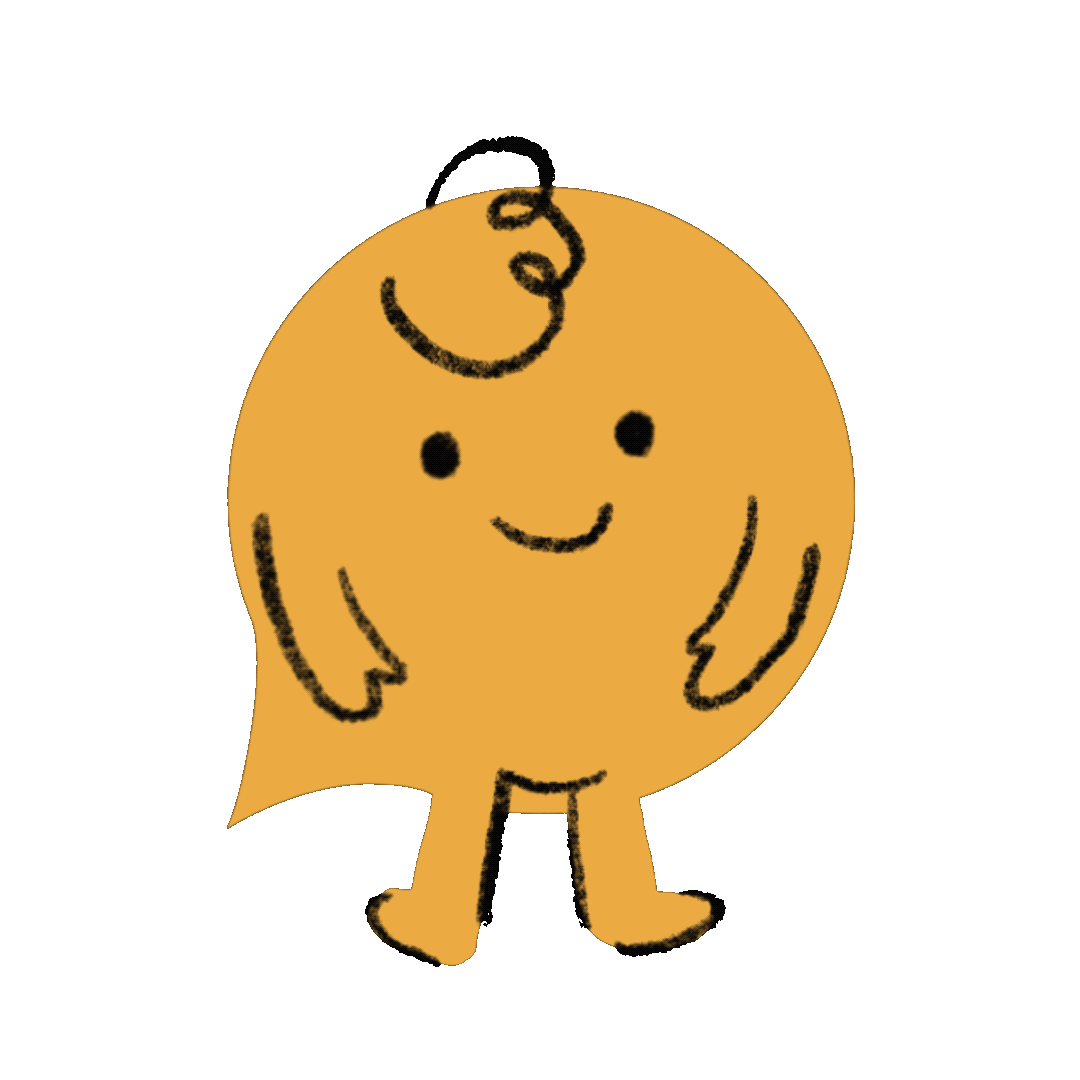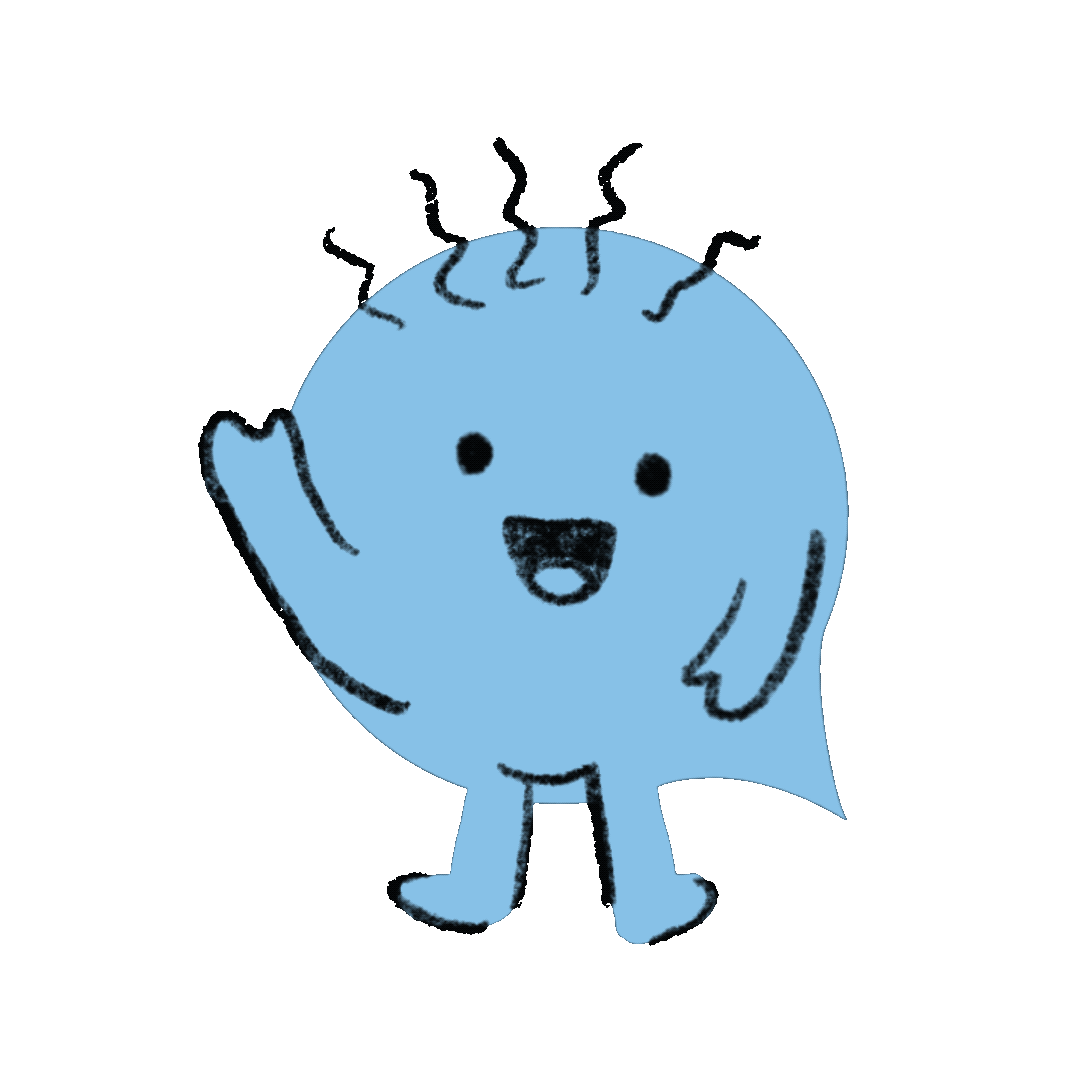 Final characters
DIGITAL MARKETING
Social Media Templates
DIGITAL MARKETING
Stickers & GIPHYs
*search 'leaddifferently', 'sparkimpact', 'sparkacademy' or 'leaddifferentlysa' to use these GIFs across GIPHY supported social media platforms!
PUBLIC RELATIONS
Packaging
In the initial stages, I played around with different fonts to create the logo for The Big Flop. Since it was an entirely new program that did not involve the word 'Spark', I had to think of something new that was different from Spark's original logo. As seen below, I played a lot with the letter 'G' in the word 'BIG' as it resembled the shape of an arrow.

I initially decided to go with a typeface called Syne and its Extra Bold style. As seen below, I used that option and explored different social media post styles and implemented the colour palette into it. I created Instagram post options, Youtube thumbnails and podcast covers.
However, after discussing with the production team, they wanted something more playful and illustrative. Hence, I showed them variations of the logo created using the typeface Milky Nice, where the letter 'G' in the word 'BIG' is turned into an arrow. I also implemented a paper-textured background that outlined the logo as an option, which the team liked. The red circles were placed on options the team preferred.

Final Logo: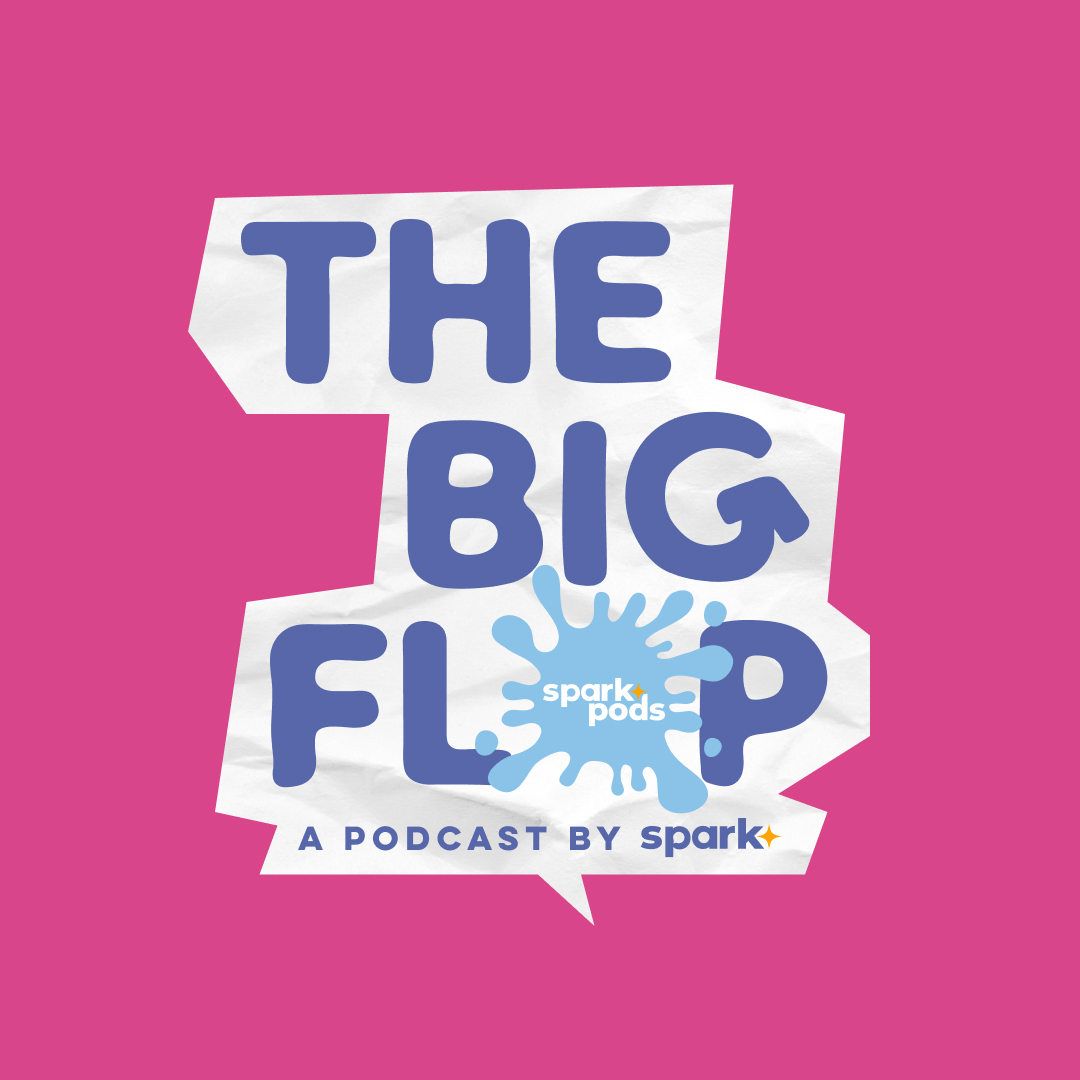 DIGITAL MARKETING

Animations & Social Media Posts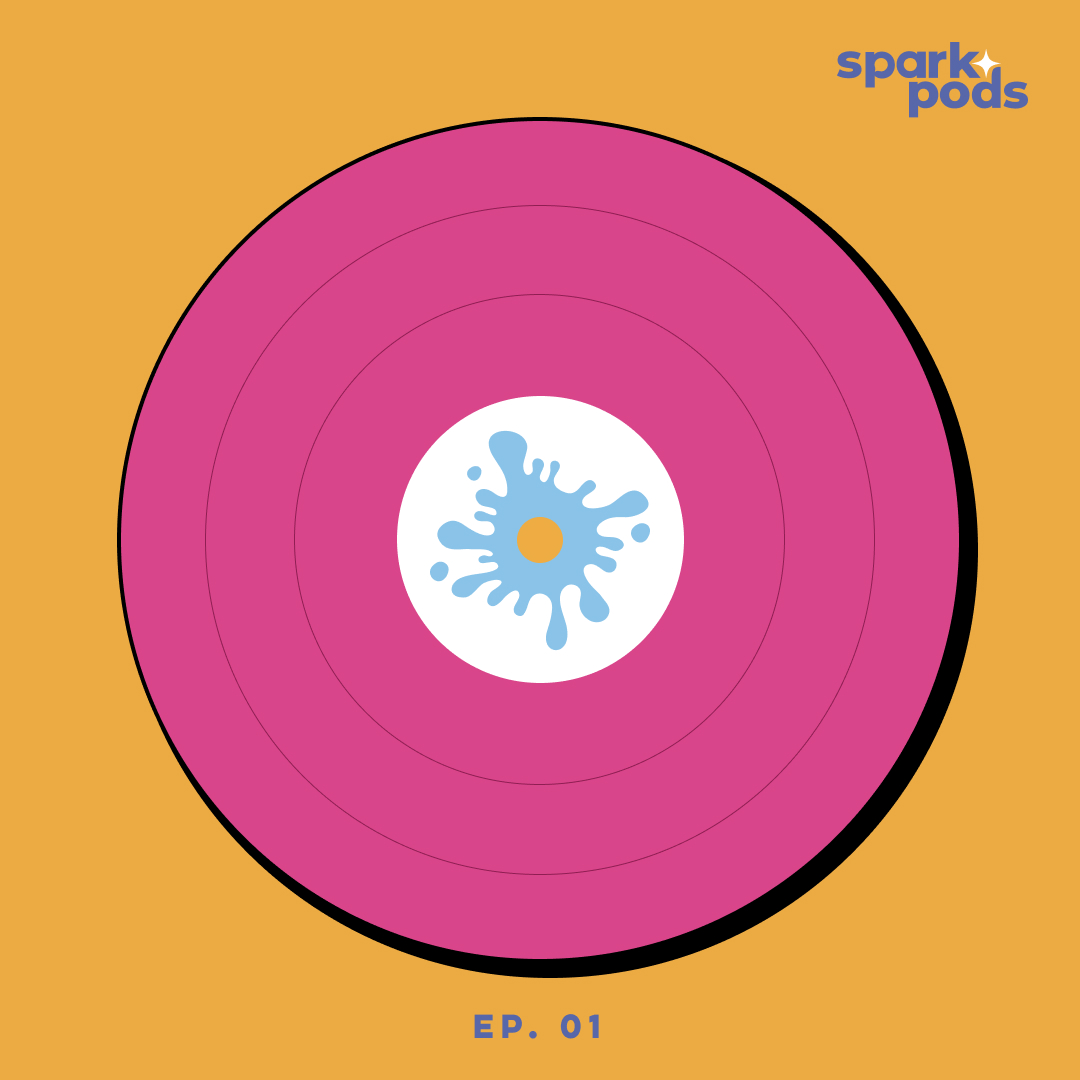 Final Experience
Podcast available on Spotify!

Video available on YouTube!
REFLECTION

Key Takeaways
Being able to bring Spark's vision to life visually has been one of the most rewarding experiences. This ongoing personal project reminded me of how much really goes into making and highlighting an experience, especially through digital design and brand experiences. I feel very lucky to have been given a platform to promote such a meaningful and impact message through design.

A challenge that I've faced and am still continuing to face today is time management - as this is a side project that involves a lot of commitment, I tend to lose track of time due to school work and not have the ability to fulfill deadlines for Spark. However, I learned that collaboration is key and that my team is always there to support me. With the recent recruitment of designers reporting to me, I feel humbled and honored to have a team behind me to help what once was a one person job.

Throughout the design process, I realize that design is a circular process and there really is no end. With Spark, I hope to create more positive social impact within my field of work, and perhaps one day implement my knowledge in product thinking into the work we will produce.