OYAKO
Case Study | UX/UI App & 3D Product Design
— is a bento box and app to implement healthier eating habits in children's lives through a balanced meal, whilst engaging in their relationships with their parents/caregivers.

Role
---
Product Designer
UX Researcher
Visual Identity
Brand Designer
Team
---
Valerie E. Lianggara (myself)

Skills
---
User Research
Product Thinking
3D Design
UI/UX Design
Brand Visual Design
Tools
---
Adobe Illustrator
Figma (prototype in progress)
Timeline
---
April - May 2020
The Challenge

In collaboration with BiteBack 2030 (a new charity developed to tackle child obesity), we were tasked to create a prototype method or materials for engaging children and/or young people in critical reflective thinking about the food and drink they consume.

The Solution

Having a lunch box is an efficient way to put healthy meals and snacks within reach, so that nutritional options are always available whether you're at home, in school, or wherever the day might take you.

Uninspired by the tedious, impractical and potentially less nutritional meals in restaurants or canteens, I wanted to create something innovative that would put the spark back into packing lunch straight from the kitchen. Being in the kitchen reminds me of my mother who always cooked for me growing up, and I wanted to highlight that bond in my response to this brief.
USER RESEARCH
Understanding
our users

To gain more insight on the topic of child obesity, I conducted qualitative research in the form of interviews. I was curious to see what other people thought, and decided to interview parents, children, and my friends (young adults) for a variety of responses - given their consent. After chatting with them about their experiences and concerns, I've highlighted these problems stated below:


Child obesity might have to do with the idea of privilege. In certain places,
obesity was an all in or all out situation – some were underweight due to malnutrition and no access to food, and the ones who were economically better had a higher chance of being overweight.

Kids mostly eat what they're provided with. It's about what their school and parents give them, starting from a young age.



It's usually only until high school that kids start to realize the importance of being healthy; some schools don't educate them enough about nutrition.



The lack of parental education and supervision on kids nutrition.
Based on some of the interviews, here are are some quotes that I felt really defined the user problem:

"My daughter was very picky with her food when she was younger, and she only wanted to eat junk food or fried food. This habit started from her pre-school teacher constantly providing her and her classmates food that weren't nutritious, thinking that it'll appeal more to them. Which worked, because it tasted and looked better than the healthy food I gave them at home."

"I hated eating anything that wasn't sweet. Vegetables looked so gross to me, and I started associating everything that was green as something that tastes bad."

BRAINSTORMING
Product & Design Analysis

As a way to gain insights into the ideation process, I looked into examples of innovative designs and did further research on educating children about food. The innovative design references that were explored were: an interactive book called'How Are You Today?' by Here Design, an interactive installation for children in the Galerie des Enfants space at Centre Pompidou, designed by Paris-based studio GGSV and the movie 'Charlie and The Chocolate Factory'.

Three common elements that I highlighted from these references were that these products were designed with:

pattern/colour,
non-verbal communication,
to educate and engage

From my findings, I roughly sketched a mindmap to organize my thought process and to focus on answering the questions asked in the brief. I decided that I wanted to design something that could be used both at home and outside, which meant that it could be used during this period and after all this is over, so I kept in mind the versatility I wanted with my final outcome.



click to zoom!
As someone who tries to eat moderately healthy, two phrases I hear quite often when hearing talks about diets and exercise are 'portion control' and 'in moderation'. I initially wanted to design an interactive cookbook, where children can flip around what they want to eat. But the idea of a bento box was still in the back of my mind, so I decided to think of how to further develop it.
SKETCHES
Visualizing features
A bento box allows kids to eat within a certain portion. As they have divisions inside, it's easy to include all food groups in a kid's meal and allow them to have small amounts of treats. Going back to the brief, it was mentioned that experiential learning is a powerful learning process, and that play in young children is integral to learning. Living in the 21st century, it's safe to say that every household has at least one electronic device with access to the internet. By creating an interactive app, targeted to both children and their parents, it could be a way to educate both target audiences to better eating in children's lives.

The structure of the box will be in the shape of a rounded rectangle, with the compartments detached from the box itself. This way, it would allow parents and kids to put the bento box together, sort of like putting puzzle pieces together, until the bento box frame is filled. It would allow conversation and learning between the parent and child.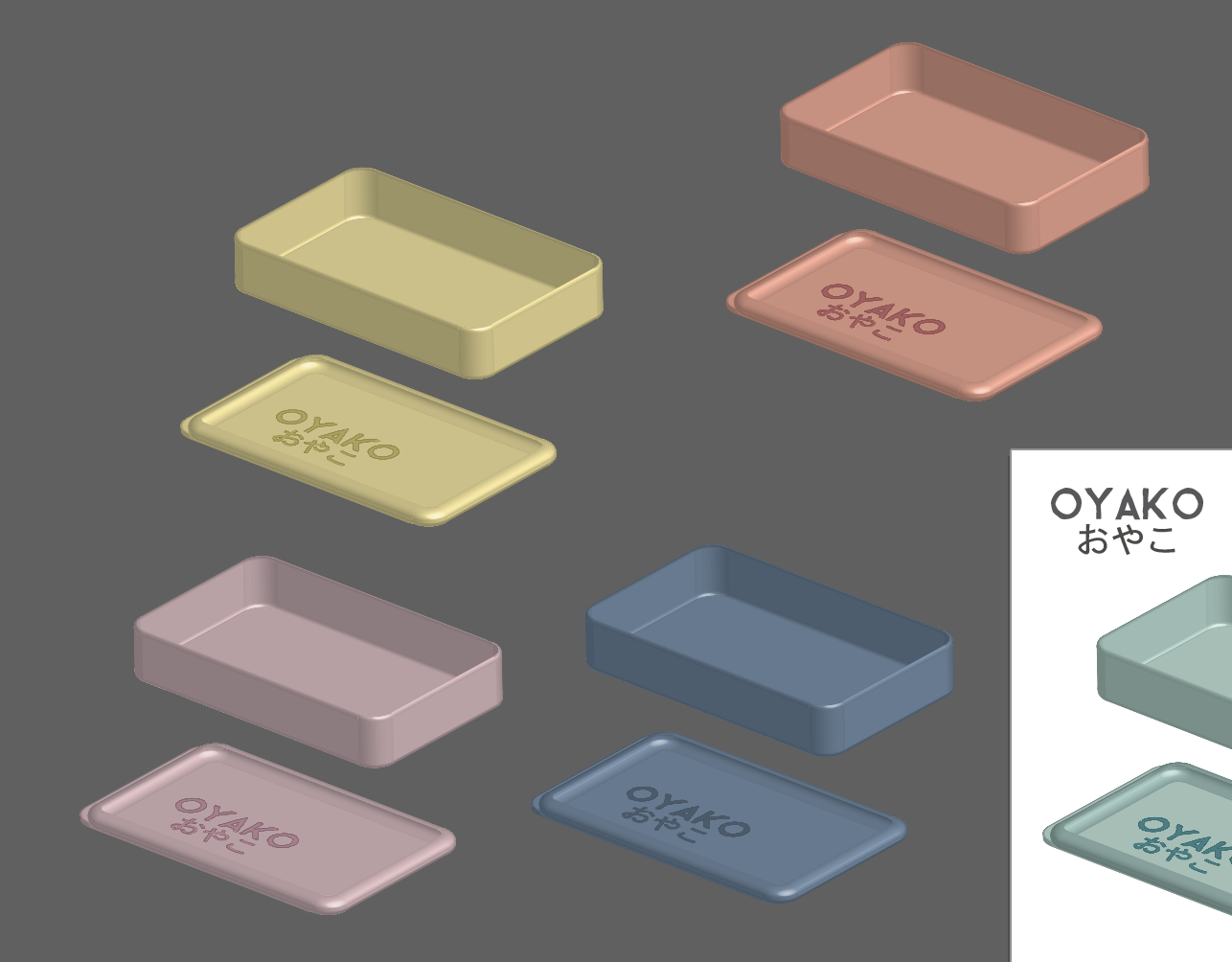 Taking the availability of foods within a household into consideration, I added a feature to the app allows parents to input the foods they have available in the kitchen that day first, before letting their children order.

Because apps can use algorithms that assist us where we find difficulty, I thought of focusing this aspect towards the 'cooking' part for parents to prep the food – would it be grilled, fried, boiled? The app could suggest how it should be prepared, taking into consideration the combination of the food choices picked.

Incorporating the non-verbal communication aspect, there will be a suggestion field that suggests both parents and kids on how to include messages in the box, inspired by the Aisai bento. I think these small but meaningful messages are an effective way for parents to build their relationship with their children.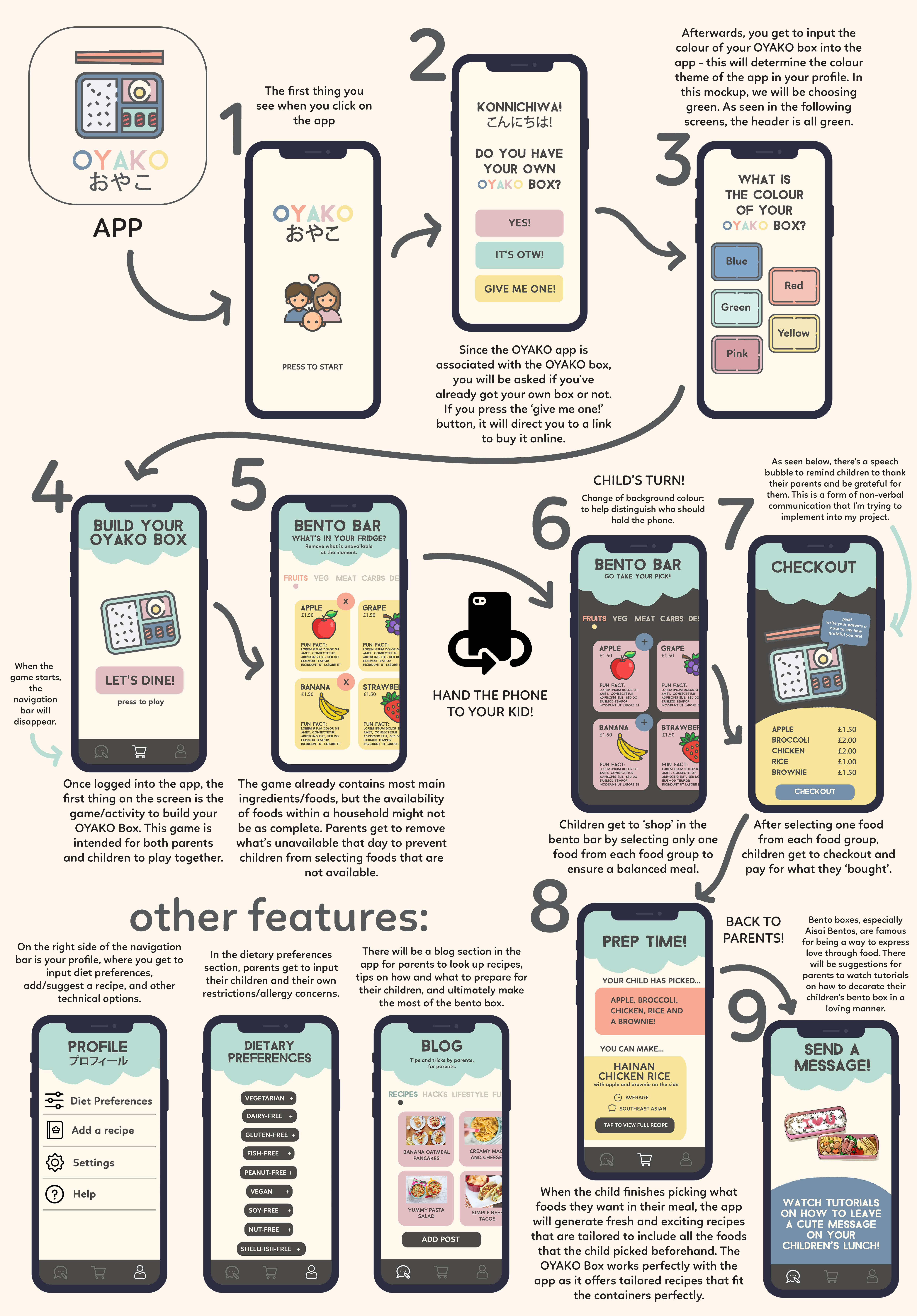 Children get bored easily. The app gives them the freedom to make their own decisions in a healthy yet guided manner. To easily determine the flow of the app as it is shared between parents and children, I used different coloured backgrounds on each page when playing the game to distinguish who should hold the phone. I think having a distinct colour as a background will guide users to navigate through the app. The main background will be a light shade of beige, and parents will mainly use the app. Hence, if the background colour is beige/light, parents should hold and use it. If it's dark grey, then it's their children's turn.

There will be a blog section in the app for parents to look up recipes, meal ideas, and tips on how and what to prepare for their children, and ultimately make the most of the bento box. There will be meal prep solutions, recipes to cook with children, hacks, DIY tutorials – basically everything from meal planning for beginners to appealing to picky eaters. Parents can add posts to the blog regarding what they made, and potentially give inspiration and build a community of parents and children striving to be healthy together.
DESIGN SYSTEM
Visual Identity
The name of the bento box and app will be OYAKO (おやこ), which translates to 'parent and child'. It sounds similar to ohayo (おはよう) – which translates to good morning. Both terms have an optimistic tone of voice, as one would normally state those terms with an exclamation mark in a delightful tone.

Final Experience